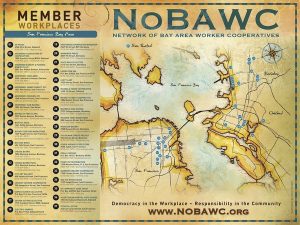 Below is a list of cooperatives and collectives in the Bay Area. If you are part of a cooperative that is not included on this list, please let us know!
924 Gilman Street Collective – Punk rock collective and venue.
Adobe Books and Arts Cooperative – Bookstore /art gallery that has community events. In Mission for 27 years/ 2 years as coop.
AK Press – Distributor of radical and independent books, pamphlets, magazines, CDs tapes, t-shirts, stickers, and other merchandise.
Alvarado Street Bakery – Certified supplier of whole grain breads, bagels and more.
Arizmendi Bakery – Located in the Inner Sunset District of San Francisco. Bakery and pizzeria specializing in bread, pizza and pastries.
Arizmendi Bakery – Located in Oakland. Bakery and pizzeria specializing in bread, pizza and pastries.
Arizmendi Bakery – Located in Emeryville. Bakery and pizzeria specializing in bread, pizza and pastries.
Arizmendi Bakery – Located in the Mission District of San Francisco. Bakery and pizzeria specializing in bread, pizza and pastries.
Arizmendi Bakery – Located in San Rafael. Bakery and pizzeria specializing in bread, pizza and pastries.
Arizmendi Association of Cooperatives – Cooperative made up of seven member businesses: six cooperative bakeries and a development and support collective.
Artist's Television Access (ATA) – Non-profit, artist-managed collective media art center that offers instruction and access to film, computer and video editing facilities.
Berkeley Free Clinic – Follows a client-centered philosophy and offers: basic dental care, acute primary medical care, HIV testing and counseling, sexually-transmitted disease treatment, men's sexually-transmitted disease screening, peer counseling and information & referral services.
Berkeley Massage and Self-Healing Center – Professional bodywork since 1969
BioFuel Oasis – Women-owned and specializing in bio-diesel from waste oil purchased from California plants. With an urban farming supply store on site.
Bound Together Bookstore – Anarchist bookstore featuring radical literature and events.
Box Dog Bikes – Bicycles and bike repairs in the Mission District.
Cheese Board Collective – Cheese store and pizzeria as well as a bakery serving morning coffee and pastries.
City Art Cooperative Gallery – Art gallery run and maintained by 200 local artists.
Community Printers, Inc – Established in 1977, Community Printers serves a wide range of business, educational, governmental and nonprofit organizations with high quality commercial printing.
Cooperative Digital – Information Design.
Copwatch – Grassroots all-volunteer organization which works to defend the right of victims and survivors of police brutality to fair treatment under the law; provides legal referrals and assistance with filing Police Review Commission complaints.
Crestmont School – K-5 collectively-run elementary school in Richmond.
Cupid Courier – Green courier service for the greater Bay Area.
Design Action Collective – Provides graphics and communication services to social justice organizations.
DIG Cooperative – Ecological community development firm based in Oakland.
Eco Care House Cleaning c/o WAGES – Women-owned, environmentally sound house cleaning from South San Jose to Gilroy.
Ecology Center of San Francisco – Non-profit cooperative that provides resources and education to create sustainable and regenerative communities in San Francisco.
Electric Embers – Internet hosting for progressive non-profits, activists, artists and cooperatives.
Emma's Eco-clean c/o WAGES – Environmentally sound house cleaning based in
Hasta Muerte Coffee – Is a new, POC collectively-run, worker-owned coffee shop. We are committed to nurturing community while serving the best coffee, hasta la muerte. Offering drinks and snacks and hosting a specialty bookstore, we hope to provide a warm and inclusive atmosphere for friends and neighbors to gather. We believe in non-hierarchical work spaces, quality coffee, and community building.
Heartwood Cooperative Woodshop – Artisan cooperative providing shop space and use of woodworking machinery to woodworkers.
Home Green Home c/o WAGES – Natural cleaning cooperative founded in partnership with WAGES and Seventh Generation.
Local Flavor Catering – Serving delicious, locally sourced food to the Bay Area since 2003, converting to a worker-owned cooperative in 2013.
Long Haul/Infoshop – An activist resource center, political reading room/storefront, and community space.
Mandela Foods Cooperative – Grocery store and nutrition education center located in West Oakland.
Maybeck High School – Staff-run high school in Berkeley.
Missing Link Bicycle Cooperative – Sells new and used bicycles, repairs bikes and bike rentals since 1973.
Modern Times Bookstore – Neighborhood bookstore and progressive resource for the Bay Area.
Nabolom Bakery – Worker-owned collective bakery and cafe established in 1976.
Natural Home Cleaning c/o WAGES – Green home cleaning for Berkeley, Oakland and the East Bay.
Other Avenues – Food store since 1974 in the Outer Sunset specializing in bulk foods, organic foods and environmentally friendly cleaning products.
Pedal Express – Non-motorized cargo delivery service in the Bay Area providing regularly scheduled route service.
Quilted – Strategic consulting, graphic design, web development to progressive arts, education and non-profit organizations.
Radical Designs – Websites and custom software.
Rhizome Urban Gardens – Installs and maintains organic permaculture-based gardens and landscapes.
San Francisco Mime Troupe – Creating and producing socially relevant theater of the highest professional quality and performing it before the widest possible audience.
Suigetsukan Martial Arts School – Collectively run martial arts school specializing in Jujitsu, Aikido and Japanese swordsmanship.
TechCollective – Information Technology firm specializing in open-source, affordable IT support for non-profits, small businesses and low-income individuals.
The Girl Army – Women's self-defense collective established in 1994 at the Suigetsukan Dojo.
Up and Up Moving & Storage — Formerly Students With Muscle, this worker-owned moving company has been in business for almost 10 years.
Women's Action to Gain Economic Security/WAGES – Provides training for low-income women.