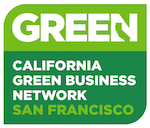 Rainbow Grocery is a certified San Francisco Green Business and strives to exceed the stringent standards set by the San Francisco Department of the Environment.
To learn more, just click on the logo.
In addition to reaching the environmental goals of our ongoing mission, Rainbow's ecological ambitions are further met by workers who serve on our annually-elected Ecology Committee. This committee provides educational resources for workers and customers, and actively seeks out innovative ways for Rainbow to minimize its environmental impact. Along with recycling, minimizing waste, composting, and water and energy conservation, Rainbow has also pursued the following environmentally conscious initiatives:
Using a daylight harvesting system
Running energy-efficient compressor systems for our coolers
Using a 13.3 kilowatt solar panel system for electric usage and hot water heating
Offering financial incentives for customers when they reuse containers and bags when shopping in bulk and produce
Installing energy-efficient LED lights throughout the store
Being on 100% renewable energy through CleanPowerSF
To find out more about our Ecology Committee, click here.